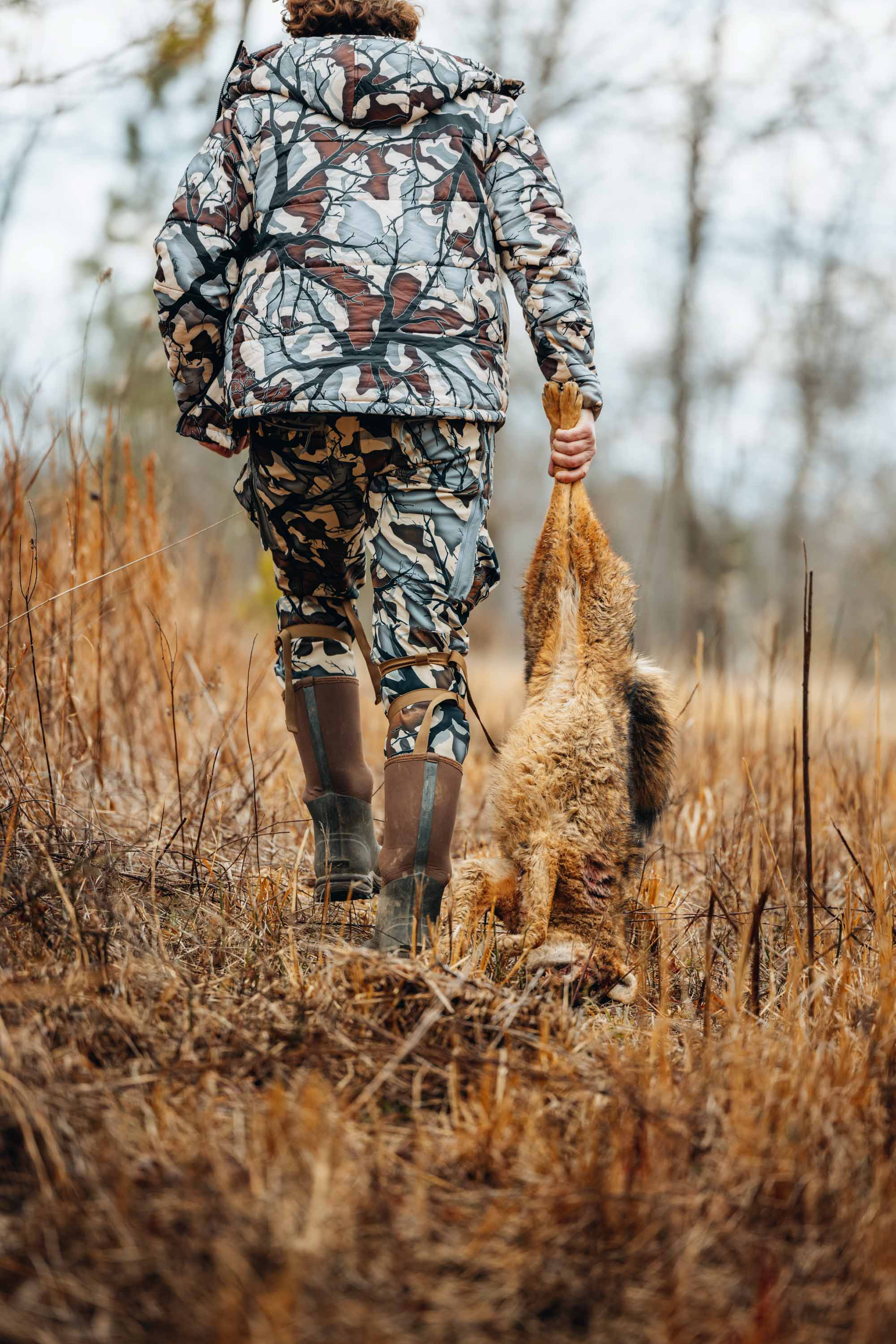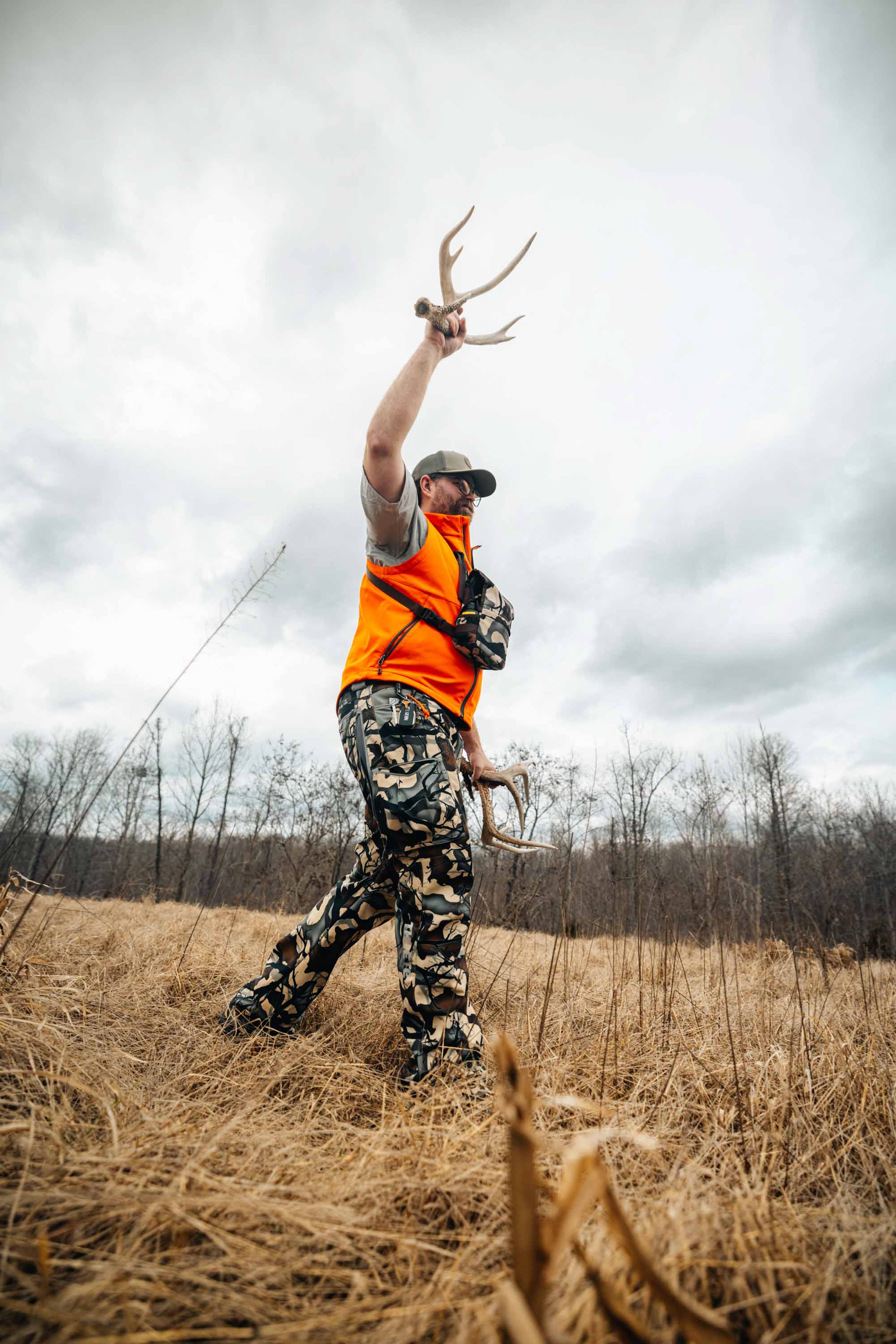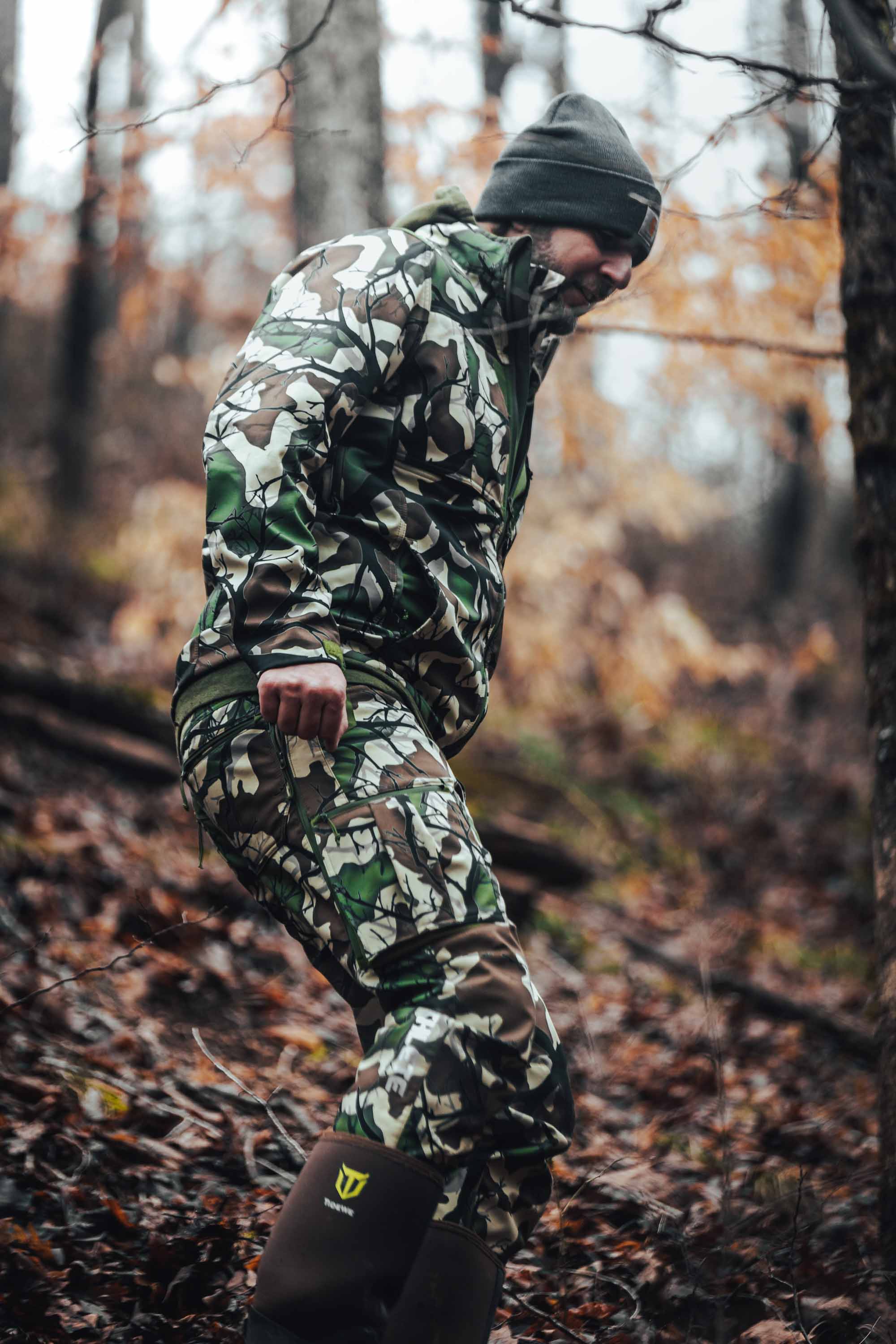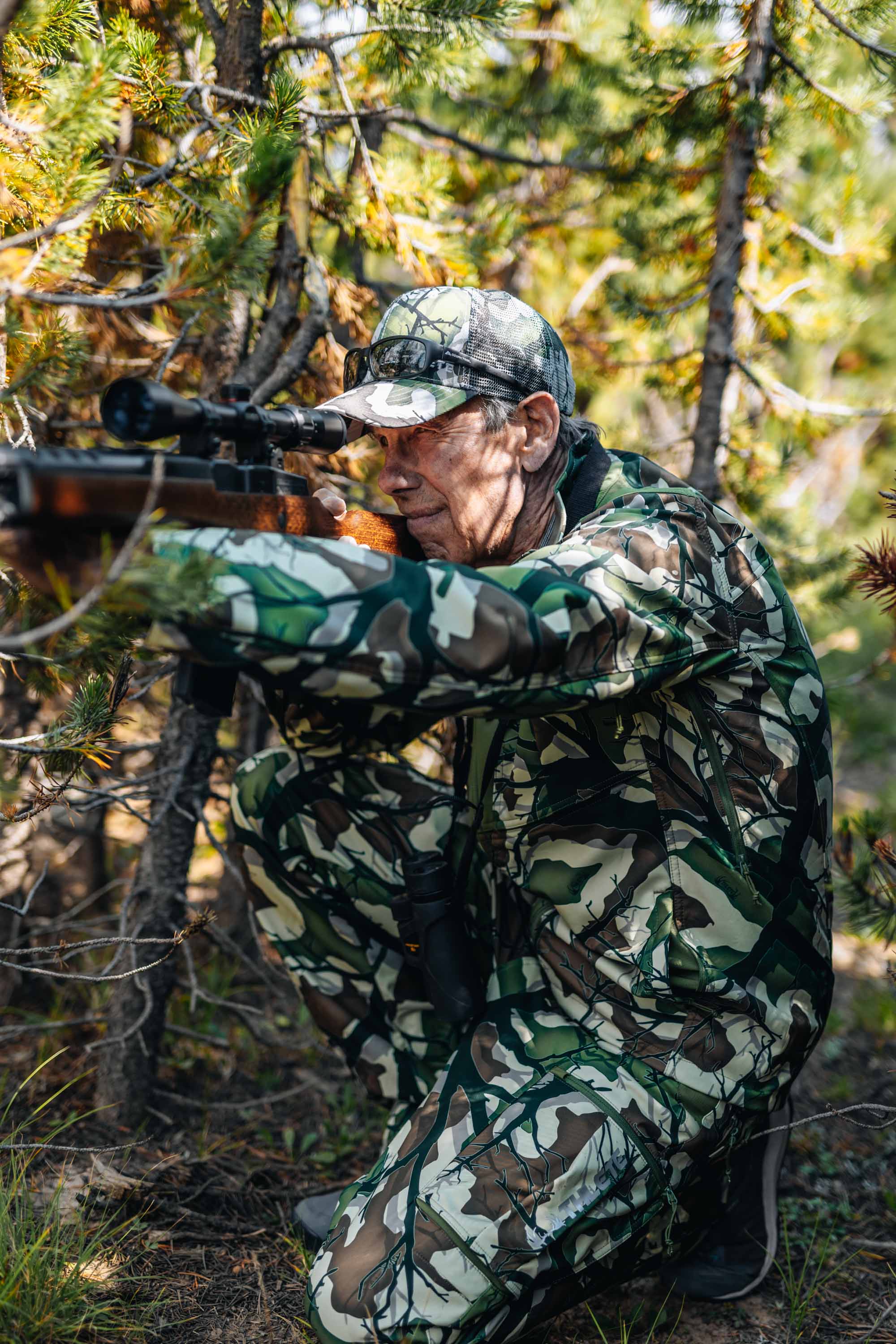 Phantom 2.0 Soft-shell Pants
Sale price

$189.00
Regular price

$189.00
(/)
---
Experience the revolution in hunting apparel with the Phantom 2.0 Pants. These advanced hunting pants are meticulously crafted using high-performance soft-shell fabric, ensuring exceptional comfort, breathability, and weather resistance. The 4-way stretch provides you with unparalleled freedom of movement, while the durability and lightweight design make them perfect for any hunting environment. The Phantom 2.0 Pants elevate your hunting gear to a new level, enabling you to master the wild with ease and efficiency. Make them your go-to hunting gear today and transform your outdoor adventures.
Unleash unmatched comfort and protection with the Phantom 2.0 Pants, designed to keep you comfortable in a range of climates and weather conditions throughout the hunting season.

Featuring a 3L soft-shell fabric with a hyper-breathable membrane, these pants offer superior breathability and waterproofing performance. The fabric's breathability rating of 20k ensures optimal airflow, allowing moisture vapor to escape and preventing excess sweating during intense hunts. Meanwhile, the waterproofing rating of 10k provides excellent protection against rain, snow, and moisture, keeping you dry and comfortable in any weather.

Crafted with high-grade snag and tear-resistant materials, the Phantom 2.0 Pants offer exceptional durability and reliability. Whether you're navigating rugged terrains or facing dense vegetation, these pants will withstand the demands of the hunt, providing reliable protection and freedom of movement.

With their advanced fabric technology and design, the Phantom 2.0 Pants are optimized to enhance your hunting performance. The 4-way stretch fabric ensures unrestricted movement, allowing you to maneuver with ease and agility. Articulated knees and a gusseted crotch provide added comfort and mobility, allowing you to focus on the hunt without any restrictions.

For optimal temperature regulation, the pants feature large hip vents, allowing you to manage heat and prevent overheating during intense activities. With 4 external pockets and 2 internal pockets, you'll have ample storage space for essential gear, ensuring everything is within easy reach.

Gear up with confidence and choose the Phantom 2.0 Pants as your trusted companion for any hunting adventure. Experience the perfect blend of breathability, waterproofing, durability, and functionality. Stay dry, comfortable, and focused on the hunt, knowing that your pants are designed to deliver superior performance in any weather condition.

Fabric - 320g/m2 3L 100% Polyester

Rating - 10,000mm water proof rating | 20,000mm breathability rating

Weight - 20.4 oz.

Pockets - 6 Pockets

The Phantom Pant 2.0 is incredibly versatile from a fit perspective. It features a standard fit that caters to a wide range of individuals, and we receive very few exchanges for this item due to its excellent fit.

For those planning to layer with multiple insulation or fleece layers along with base layers, we recommend sizing up. This ensures sufficient room for comfortable layering without feeling restricted.

If you prefer an athletic and fitted look, we suggest sizing according to the specifications that align most closely with your measurements. This will provide a sleek and tailored appearance without sacrificing comfort.

For taller individuals, we recommend sizing up for added length to ensure the pants fit you properly and offer the desired coverage.

Additionally, for those with larger thighs, waist, and hips relative to their height (our people!), please consider sizing up as the pants can run tight in these areas for certain individuals.

To make an informed decision, please refer to our comprehensive size chart, which provides specific measurements for each size. Our goal is to offer a versatile fit that caters to your preferences and ensures your utmost satisfaction. If you have any questions or need assistance, our team is always available to help. Experience the functionality and comfort of the Phantom Pant 2.0, designed to enhance your performance and style during your outdoor pursuits.
 

Shipping, Returns, and Exchange Policy:

Shipping Options:

Free Shipping (5-7 Business Days):

Delivery Timeframe: 5-7 business days.
Delivery Days: Monday through Friday.
Delivery Hours: 8 A.M. to 4:30 P.M.
Suitable for: All addresses, including both residential and business.

2-Day Delivery:

Delivery Timeframe: Arrives within 2 business days.
Order Placement Deadline: 2 PM CST.
Delivery Days: Monday through Friday.
Delivery Hours: 8 A.M. to 4:30 P.M.
Suitable for: All addresses, but recommended for business addresses.

Next Day Delivery:

Delivery Timeframe: Arrives next business day.
Order Placement Deadline: 2 PM CST.
Delivery Days: Monday through Friday.
Delivery Hours: 8 A.M. to 4:30 P.M.
Suitable for: All addresses, but recommended for business addresses.

Sure-Fire Exchange Method:

Our Sure-Fire Exchange method provides a hassle-free and efficient process for requesting a sizing tweak or exchanging an item without any questions asked. To initiate the exchange, please follow the steps outlined below:

Exchange Portal:

Access our dedicated exchange portal to begin the process conveniently.
Request a Shipping Label: Within the exchange portal, select the option to request a shipping label.
Ship Item with Sizing Tweak Note: Package the item securely and include a clear note in the box specifying the desired sizing tweak.

Shipment Process:

Use the provided shipping label to send the package back to us.
Processing: Once we receive the returned item with the sizing tweak note, our team will promptly process the exchange.

Contact Us:

For immediate assistance or further inquiries, please reach out to our dedicated customer support team at (800) 909-7193.
Voicemail: If you reach our voicemail, kindly leave your name, phone number, and order number for faster resolution of your concerns.

Additional Information:

Quantity Availability Concerns:

If you have concerns about item availability, we recommend placing a new order for an alternative item.
Refunds: Once the new order is confirmed, we will promptly refund the initial order amount, ensuring a hassle-free transaction.

Returns:

We strive to ensure your complete satisfaction with your purchase. If you are not entirely satisfied, you may return your unworn and clean item(s) with original tags attached within 60 days of the purchase date. Please note that returns must be free from pet hair, stains, damage, altered tags, or odors to be accepted.

To make a return, please have the following information on hand:

Name
Order Number
Date of Purchase
Reason for the return

Return Process:

Proceed through the Returns Portal.
Receive your UPS Shipping Label.
Place the label on an appropriate box and drop it off at the nearest UPS location.
Please allow 5-10 business days for the return process to be completed. We will be in touch!
Refunds will be issued (minus shipping costs) for compliant returns. Non-compliant returns will not be refunded. Please refer to our Terms and Conditions for more details.

We value your satisfaction and aim to provide a seamless shopping experience. If you have any further questions or need assistance, please refer to our customer support team.
Phantom 2.0 Soft-shell Pants
Sale price

$189.00
Regular price

$189.00
Choose options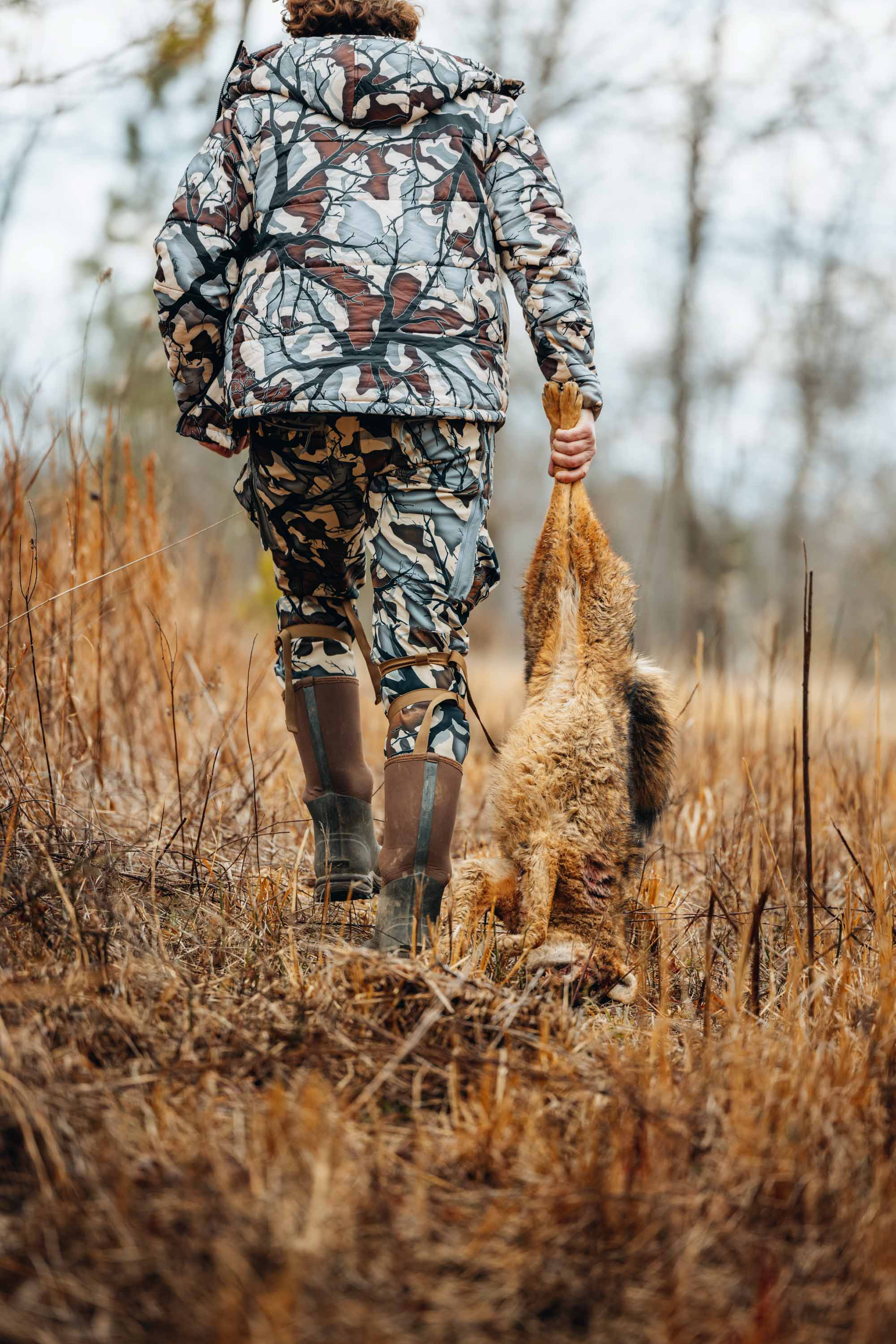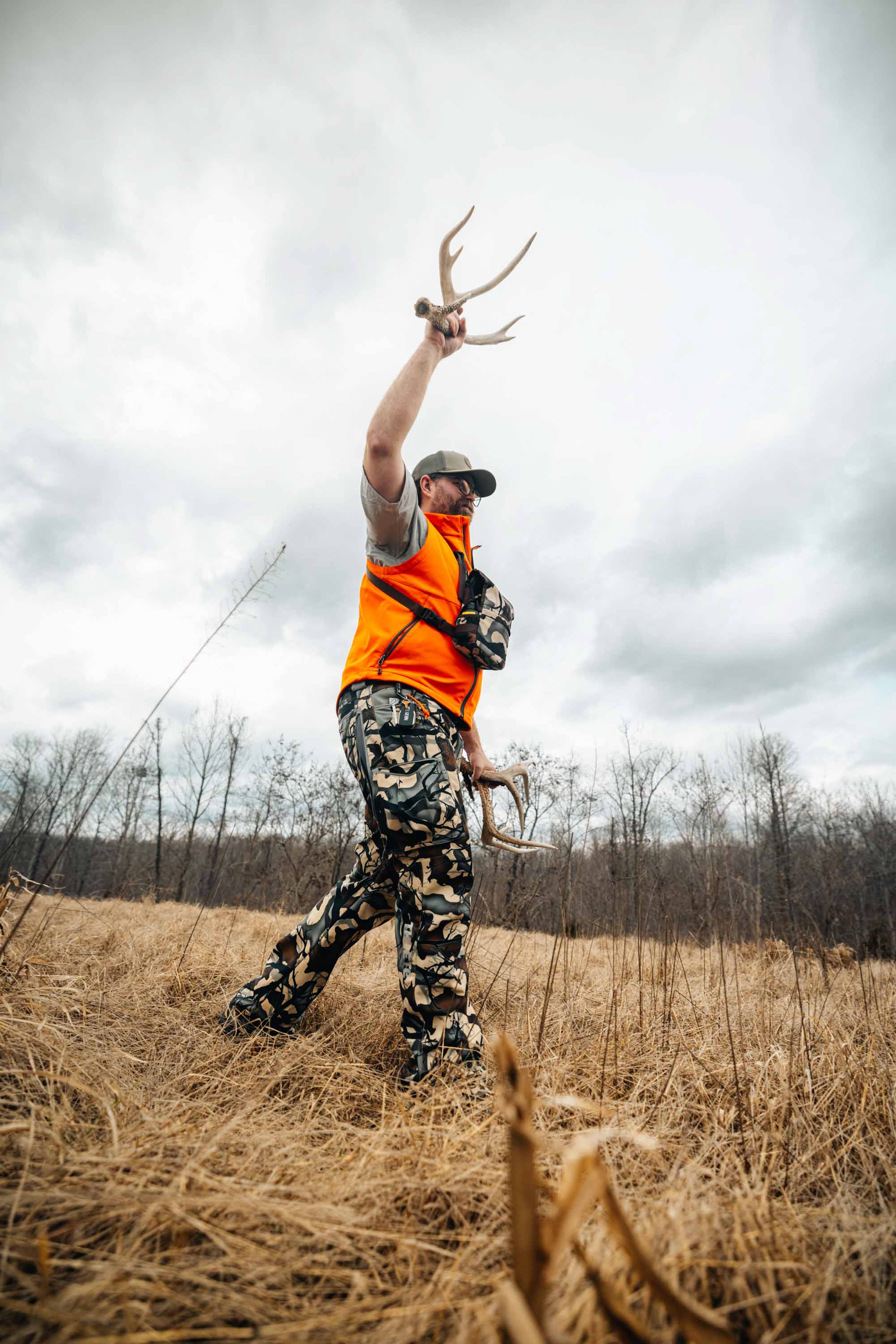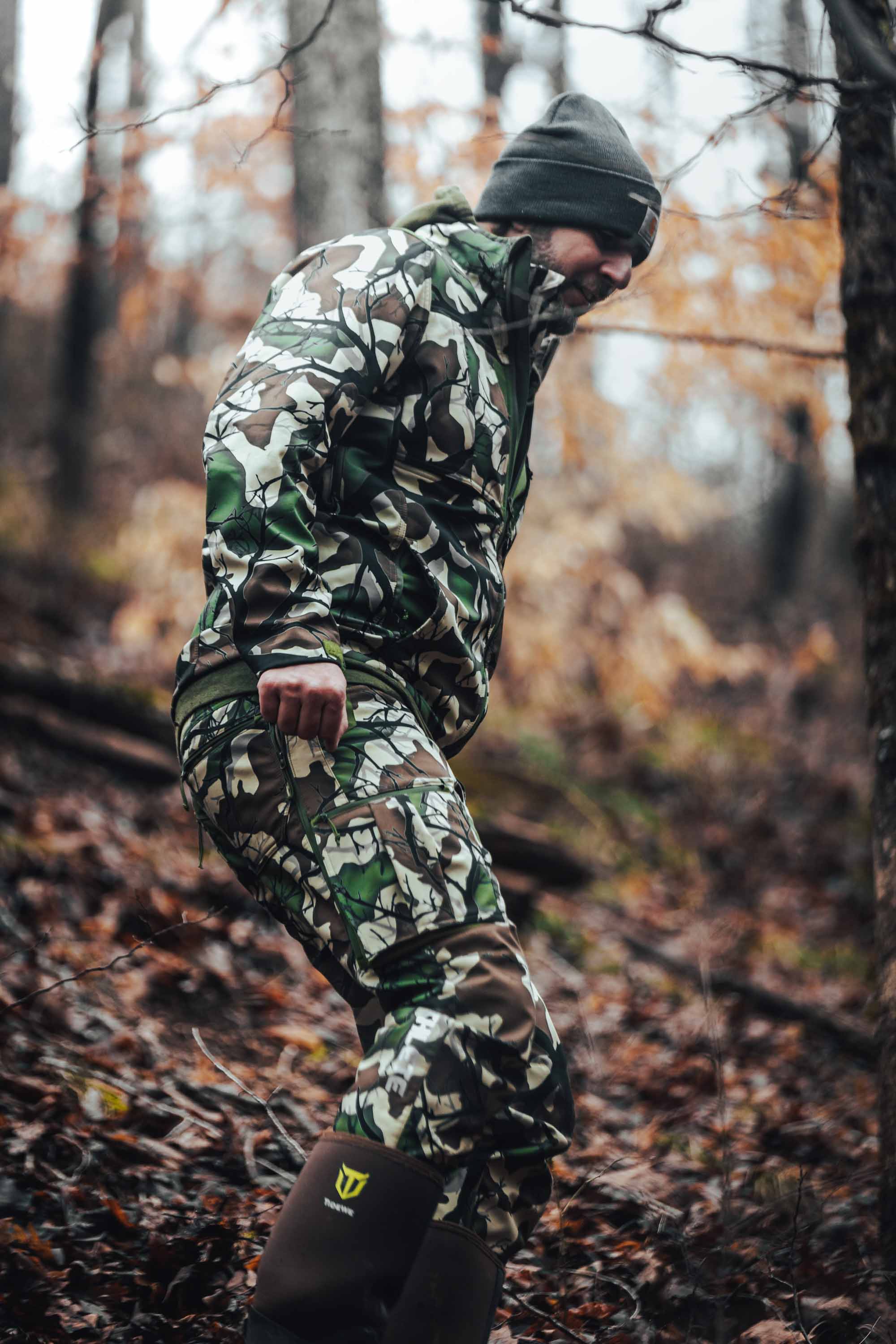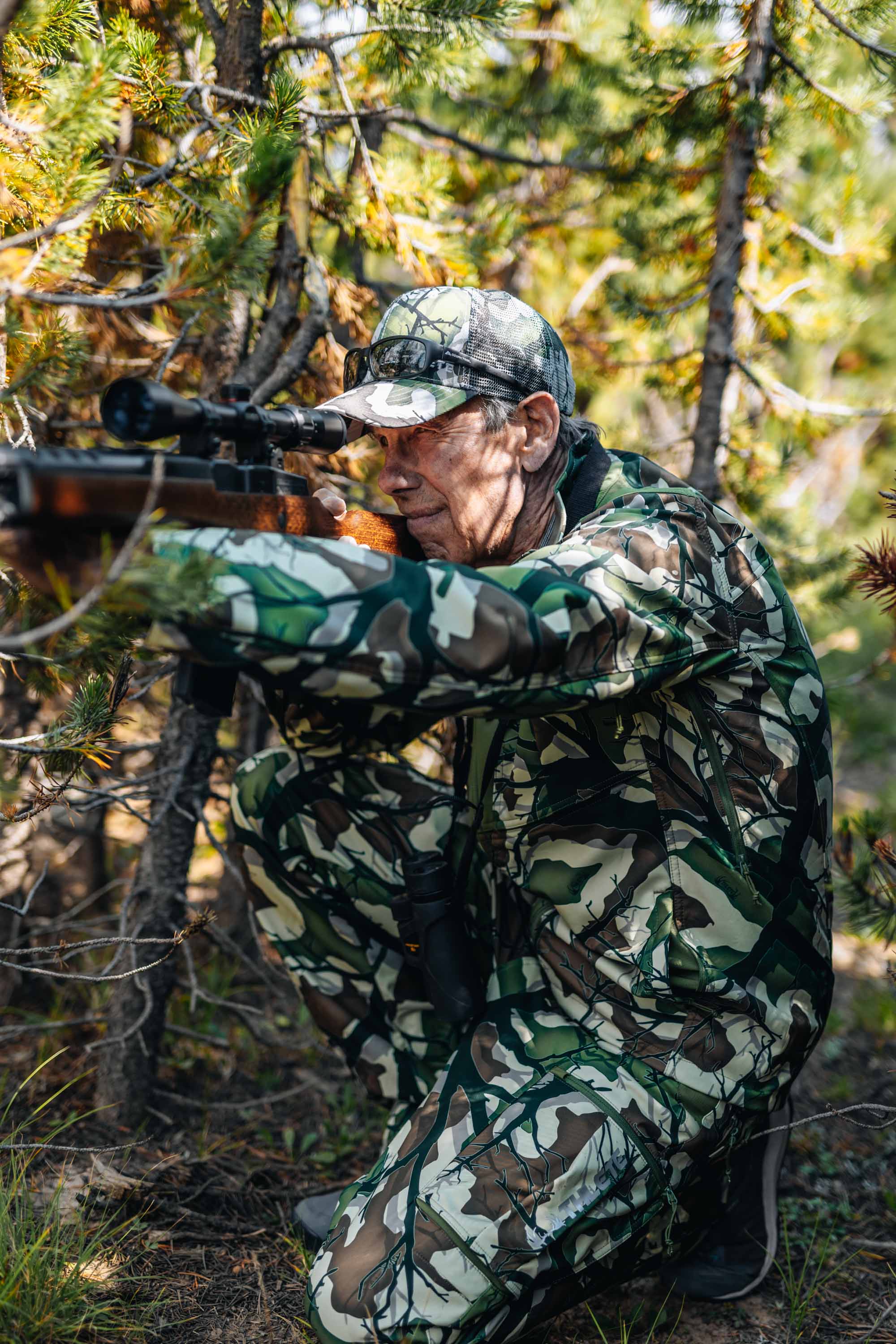 4-way stretch fabric
Windproof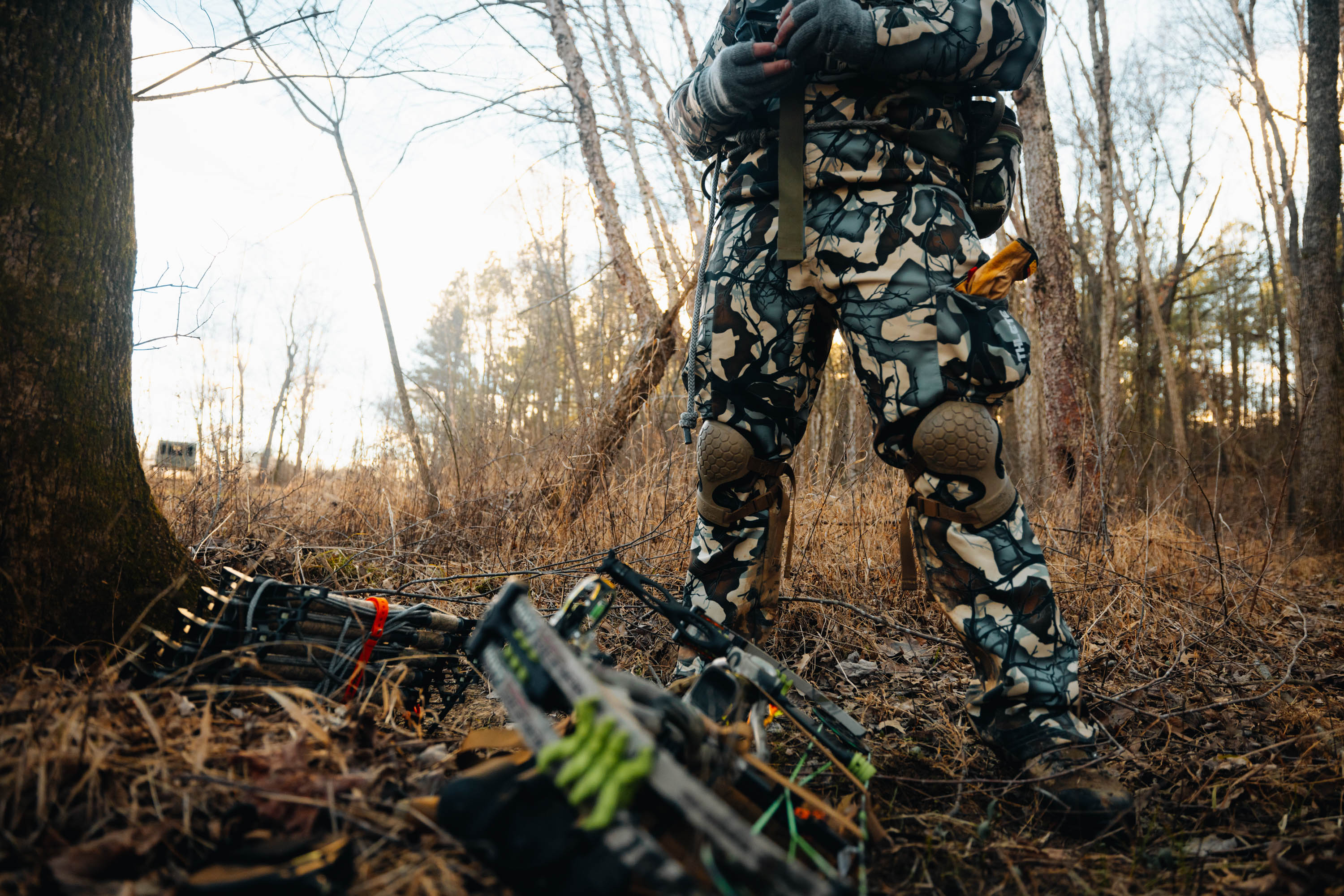 Articulated knees and gusseted crotch
Large hip vents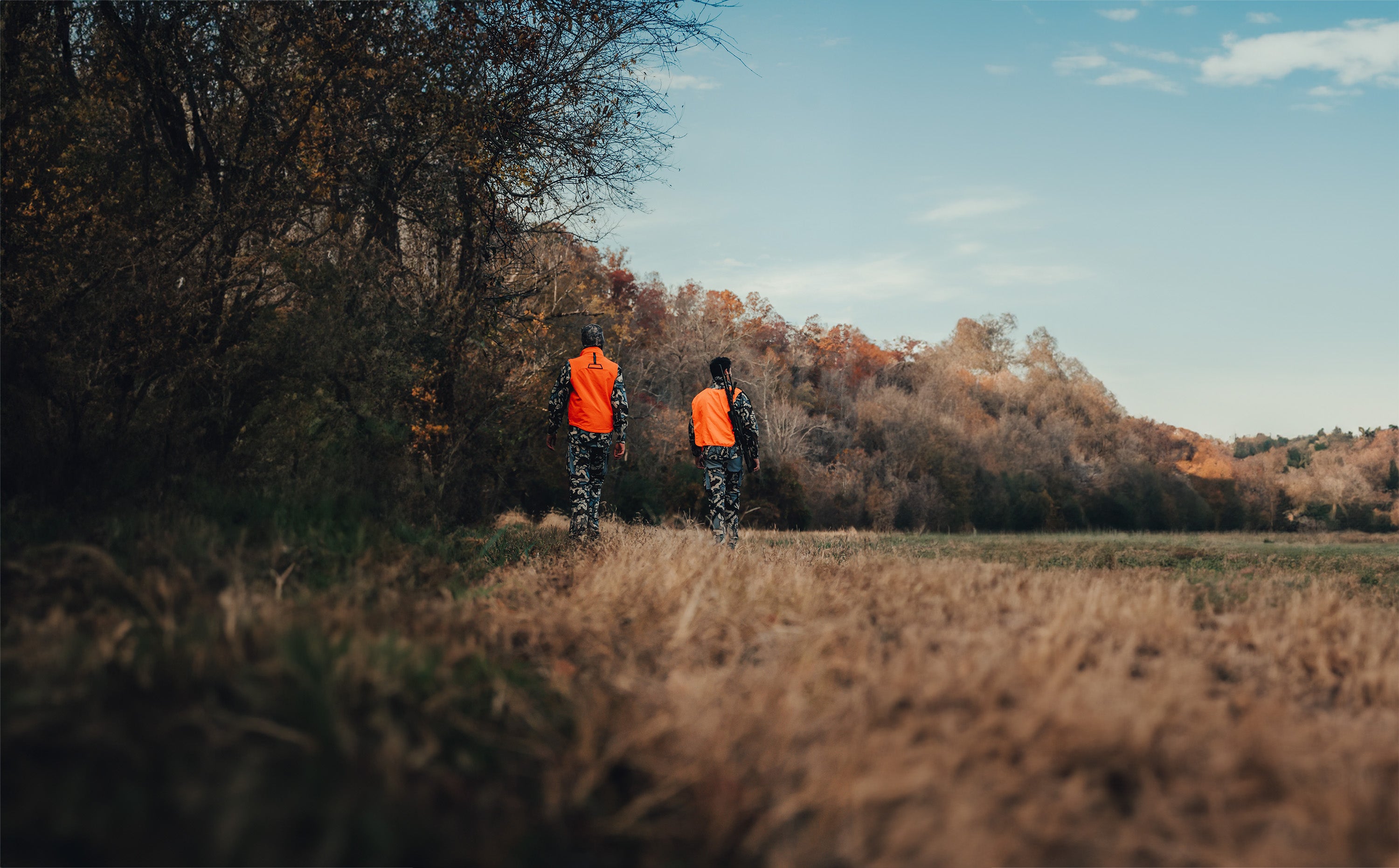 purpose-built for hunters
All-Season Hunting Pant